The Bible, translated into pirate talk
Regular price
Sale price
$29.92 USD
Unit price
per
Sale
Sold out
The full Old and New Testaments of the Bible translated into pirate vernacular.
View full details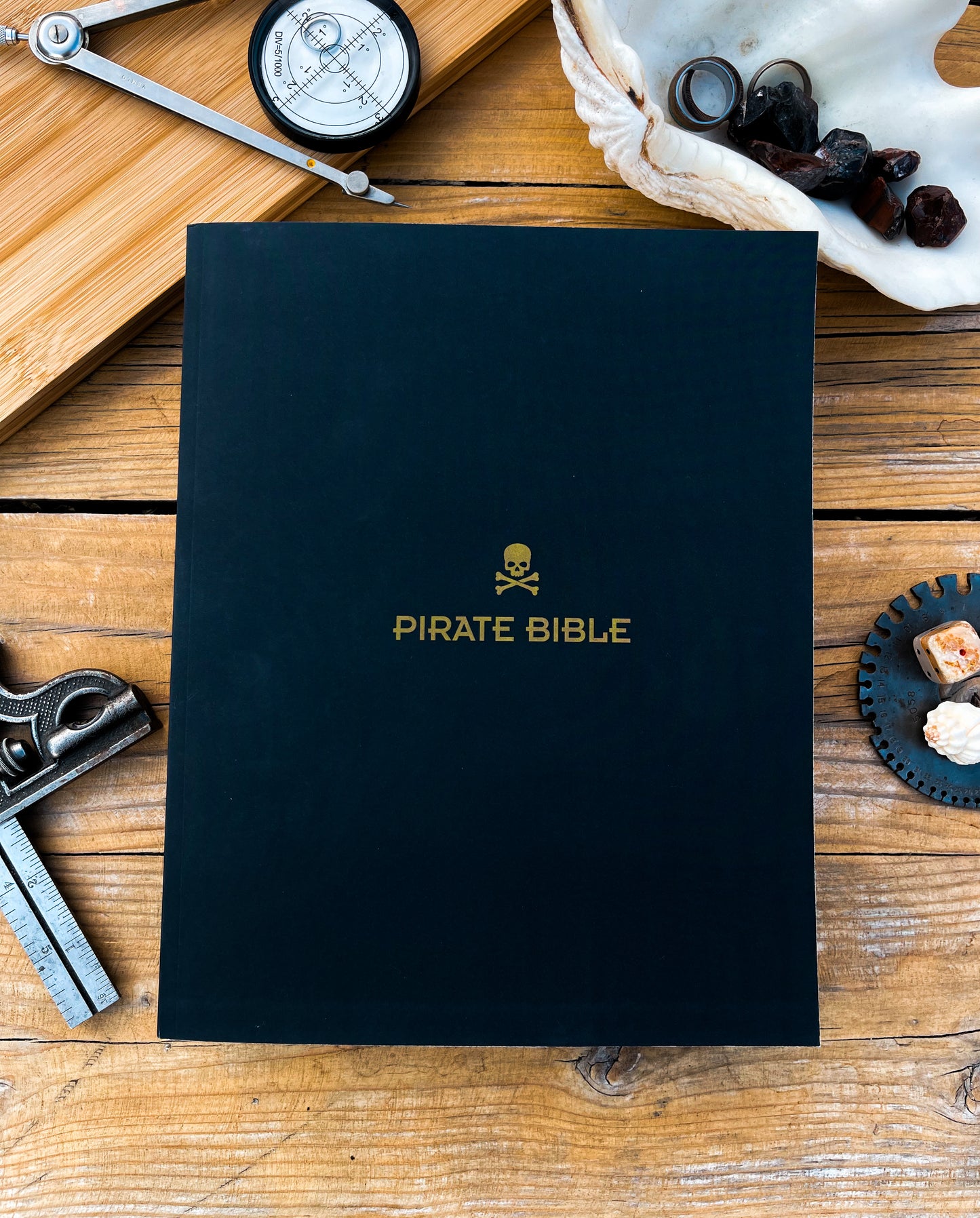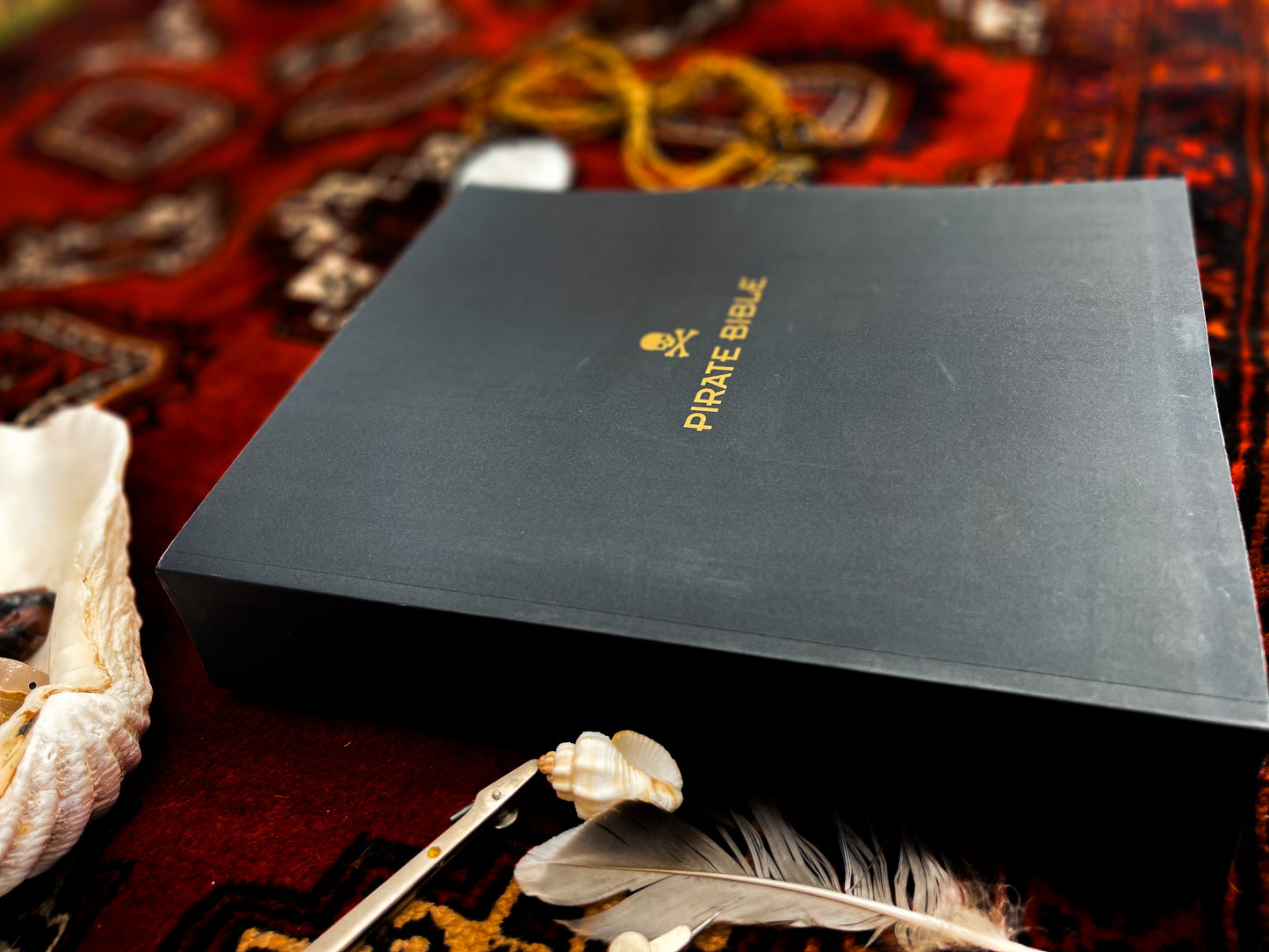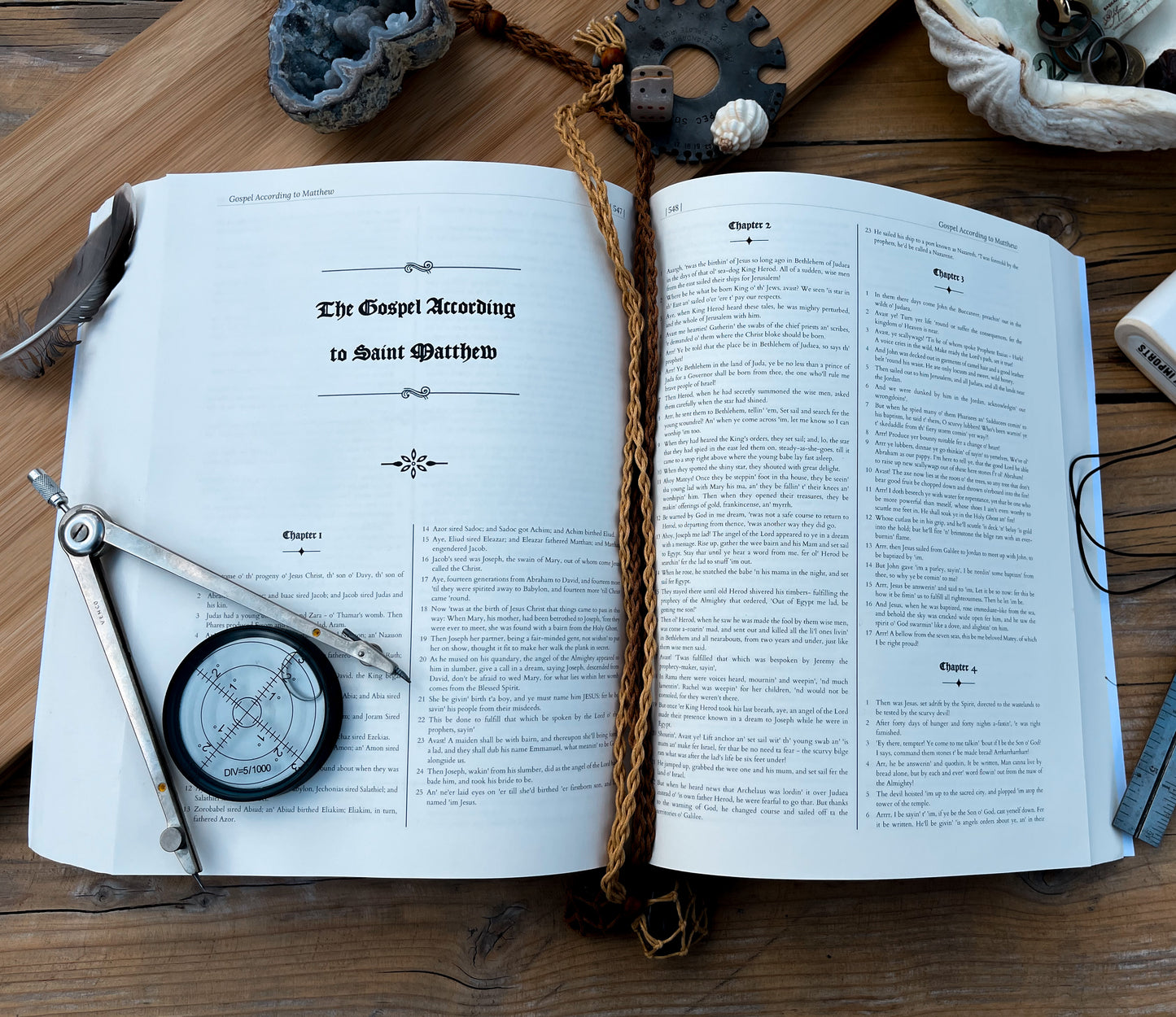 Let customers speak for us
Ye be needin' this Bible!
This is the second copy I've bought (first for myself and the second as a White Elephant gift). I love it. I only wish I could find a use for it in service....
Very good and well enjoyed!
PIRATE BIBLE
Saw this on Ward Radio, and I'm Episcopalian, if it helps people, especially young people turn onto the Gospel then sign me up.
Yarrrrrg!
This is the absolute best book I've ever bought, ever.
KjV peglegs
Reading the comparison out loud to my kids..... they've only experienced the NIV and couldn't tell which version was the pirate translation..... sigh....
Very fun
Really fun and interesting read!!!!
A lot of fun
A pure AI translation of the Bible into Pirate. Believe it or not, this was done by people whose desire is to promote the Bible, and I do believe God has a sense of humor. If you check the box, though, for a "free" Bible, what they do is enter your contact on an LDS website that you are interested in a contact. So if you're not interested in a contact, don't check that box.
Arrr, a real blessin'!
Arrr, an outstandin' piece o' work! Gave it to our holy man at the kirk, 'es a real student of the Word, he loved it!
Aarrrgh
The Pirate Bible be spot on fer all ye landlubbers
Pirate bible
You AI has messed up the order of the chapters...ex. Lev 23 is Lev 25. This will make it very difficult to compare against KJV...
Well, Blow Me Down!
The print in the Pirate Bible is tiny, which I was not aware of when purchasing (but don't mind). Minne was shipped in a box with no protective layer, but it arrived in good enough condition. I bought the book as a gift and it was a big hit. I'm very impressed and amused by the way it's written and would recommend it to anyone who respects God's Word but still enjoys a good chuckle.
Dying over here
Lol @ the guy who gave 5 stars and said not to buy it
Arrrrrrr Matey 'n Christ
I'm a follower of Christ who takes my faith seriously and I LOVE THIS. Honestly, I wouldn't listen to anyone saying this is blasphemy because it's not. It's not a Bible to take seriously or take to church. It's to have for fun. Yes the entire Bible is in there and written in pirate language, but it's for Bible enthusiasts who want to have something random and funny that's about Jesus. It's not made to make fun of the Bible. It's made for those who want something fun and different. It's like buying a fun Jesus shirt but even better. My recommendation is BUY THIS. It's hilarious and gets to go on my bookshelf with all my other Bibles. I'm so glad I got this! Get one!
5.0 out of 5 stars This is blasphemy
Don't buy this it's blasphemy against Jesus Christ our Lord and Savior
The Text
Take a look at some excerpts to see how it reads compared to the King James Version of the Bible.
Matthew 6:3 (KJV)

But when thou doest alms, let not thy left hand know what thy right hand doeth:

Matthew 6:3 (Pirate Bible)

But when ye scuttle booty, let not yer port hand know what yer starboard hand be doin'!

Genesis 1:2 (KJV)

And the earth was without form, and void; and darkness was upon the face of the deep. And the Spirit of God moved upon the face of the waters.

Genesis 1:2 (Pirate Bible)

The land was a mess, nary a speck of shape, 'n all was shrouded in dark over the deep abyss. But then the spirit of ol' God sailed across the waters.

Galatians 5:18-21 (KJV)

18 But if ye be led of the Spirit, ye are not under the law.

19 Now the works of the flesh are manifest, which are these; Adultery, fornication, uncleanness, lasciviousness,

20 Idolatry, witchcraft, hatred, variance, emulations, wrath, strife, seditions, heresies,

21 Envyings, murders, drunkenness, revellings, and such like: of the which I tell you before, as I have also told you in time past, that they which do such things shall not inherit the kingdom of God.

Galatians 5:18-21 (Pirate Bible)

18 But if ye be led by the wind, ye ain't subject to the Code.


19 Ayy, the scurvy deeds of the scallywag be plain to see: adultery, fornicatin', uncleanliness, and lecherousness.


20 Mutiny, voodoo, avast hatred, arguin', lookin' fer a fight, bombs burstin' with rage, scallywags at each other's throats, blasphemous thinkin', and mutinous notions!


21 Arrr, envyin's an' murders, guzzlin' grog an' revelries, o' th' likes o' that, I be tellin' ye afore, as I said afore t' those what do such, that they won't inherit th' kingdom o' God.
Why does this exist?
The Pirate Bible is a full translation of the Bible (including Old and New Testaments). It was translated using a complex algorithm and artificial intelligence to create a realistic translation of the Holy Book while striving to maintain content accuracy. We hope it inspires you to engage with the Bible in new and meaningful ways.
Get your copy of the Pirate Bible